Established nearly 40 years, Holmes & Swift Organ Builders remains a family run business where personal service and quality of work are of prime importance.
Based in Fakenham, UK, near the beautiful North Norfolk coast, we have established a reputation as experts in the authentic restoration of historic pipe organs. Whilst restoration is our speciality, we also build new organs and undertake rebuilding of non-historic instruments, with soundly judged tonal schemes and reliable new key actions.
Our work for church and private clients takes us nationwide and to Europe.
We also repair and renovate associated instruments such as the Reed Organ (also known as American Organ or Harmonium), Barrel Organs and musical clocks.
We can help - We understand that technical detail is unnecessary to many people who are simply looking for someone to repair their church organ or other instrument. We offer straightforward advice and solutions based on practical experience and integrity .
Here are some of the more everyday items we do alongside our major projects:
Sheeting over organs during building work
Cleaning / overhauling instruments
Water damage repairs
Other Insurance claims
Woodworm treatment
Electric blower repairs and replacement
Organ tuning
Organ repairs
Our site is being created in-house as time permits, so you should find something new on each visit. Meanwhile we look forward to receiving your enquiries or comments.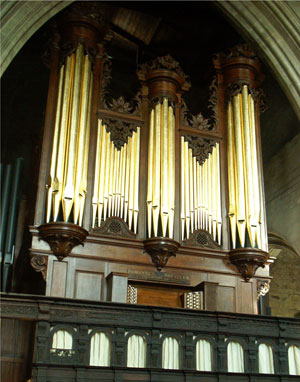 Above: 1754 Snetzler casework at Kings Lynn Minster, woodwork and gilded pipes restored 2003
Work continues with major tonal additions to this remarkable instrument. Ten ranks of replica Snetzler pipework on the Great organ, including a complete 5 rank Cornet stop have now been completed, with further additions to the Choir organ currently underway.